Now the title above does not refer to global climate change caused by industrialisation, but rather to the fact that winter is drawing to a close and thoughts are gradually turning beachward again.
Not that people are lounging about on the beaches working on their tans just yet – I will keep you posted on early sightings – but spring has definitely sprung. There are more tourists sitting on outside tables sipping cappacinos, jackets are being discarded, and there is a rumour circulating that the temperature may be approaching 17 degrees by the weekend.
Now whatever happened to that beach-towel?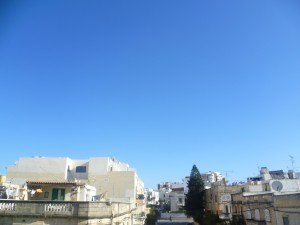 blue skies over Malta
http://www.howtomalta.com/2012/03/people-sighted-on-maltese-beach.html